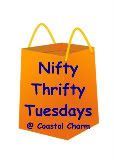 I'm joining the
Nifty Thrifty
party at
Coastal Charm
...check it out to see the amazing things people find thrifting and the spectular things they do with them.
Remember
this post
where I shared the treasures I found at Goodwill? I'm going to reveal what I did with them.
The picture above is from the Ballard Designs catalog and was my inspiration. It came with a $45-$60 price tag depending on the size. I love the boxwood look, but from the posts I've seen where people recreate this I know that the tedious process is not for me. Besides I love moss, it's all over my yard.
We live on a solid piece of granite, the stones below are from our property when they blasted the granite to build the house. They are all over the yard. I love rocks too! Because we are on granite the drainage in our yard is terrible, so there is a lot of moisture, hence the moss...EVERYWHERE. I could probably do a whole year of science with the kids studying the various types of moss we have.
Okay, onto the project. I started with three varying sizes of Christmas balls I got 50% off after Christmas - total $5.75. Looks like I'm setting up a solar system.
I spray painted them black, so the bold colors would not show threw if I was not meticulous in covering them.
Now for the moss - $4.99 a bag at Hobby Lobby.
The finished product - I LOVE THESE!!!
Who knew moss balls could be so photogenic?
The urns were about $ 7 for all three at Goodwill
Total project cost $18 not including spray paint and spray adhesive.